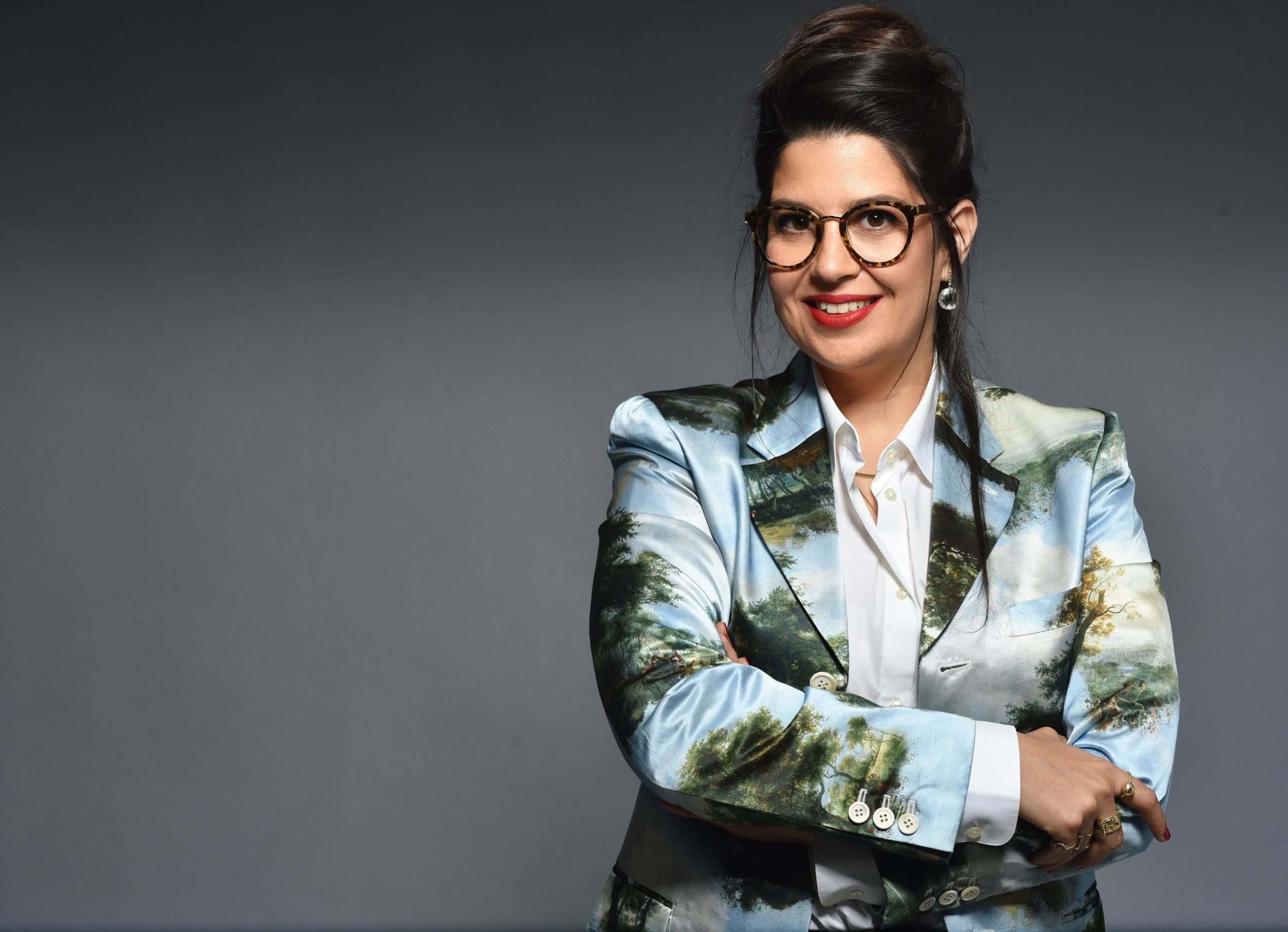 (Women We Admire)
A conversation with curator and fashion historian Ya'ara Keydar
Israeli fashion historian and curator Ya'ara Keydar is a multidisciplinary creator. To borrow an idiom from her field of expertise, one could say that she wears many hats: By day she is a PhD candidate writing her thesis, and by night she's a lecturer introducing the wider public to the subtle connections between fine art and high fashion that she reveals in her research. In between, she curates fashion exhibitions both in Israel and in the United States in projects whose focus spans different centuries and straddles eclectic themes – from bridal gowns to plus size models. 

In a recent chat about her practice, Keydar shared with Handle with Care what made her start writing about fashion, and explained what hidden stories she finds in the garments we all wear. 
JB: Ya'ara, I know that you started out studying fashion design at the Shenkar College of Engineering and Design and then became a designer at Israeli fashion brand Castro. You later opened your own design studio before you became a curator and writer. Could you tell me what inspired you to make this transition?

YK: "Yes, that's right. When I left Castro, I was kind of looking for what I wanted to do next. I designed bridal gowns, and because I didn't have a budget for PR, I turned to Facebook and Twitter and opened my own blog in 2009. I wrote about different sources of inspiration every week, and it became very successful; there were thousands of readers. Thanks to that, my focus shifted to research and writing about topics I was interested in. I got a proposal to write about fashion for the Israeli daily Ma'ariv, and slowly I realized that my heart was really in the writing. So I shut down my studio, and in 2012 I moved to New York, where I lived for eight years. 
In NY I did my M.A. in the research, curation and history of fashion at NYU's Costume Design Studies department. I also did a two-year internship at the Costume Institute of the Metropolitan Museum of Art, and interned in the museum at FIT. In parallel, I also taught at NYU and curated shows in New York and in Israel."
JB: Very prolific! So you returned to Israel afterwards, and today you're pursuing your PhD at the Hebrew University's Culture Studies program. What is your research about? I also wonder if you find that there is a disparity between being a researcher and doing practical curation work, or whether you believe that the two complement one another.

YK: "I don't really see a difference between the two fields. I'm a visual person at my core, so very often when I write an academic paper I incorporate many images and artifacts that I look at. When I write, I imagine the writing of an article like a tour in which I walk people through an exhibition. So the transformation from an article to an exhibition or even a lecture is very easy and natural for me. 
As for my research, it focuses on the character of Salome from the New Testament. It's a story of an innocent Jewish princess who was forced to dance for King Heord and in return asked for the head of John the Baptist. This is a story that was depicted throughout the history of art, from the Middle Ages to the Renaissance and all the way up to the 19th century. I'm observing how her story was portrayed in visual arts, in opera, in dance and in cinema. I'm looking at Salome's visual metamorphosis through the history of fashion." 
JB: That's fascinating, good luck. In this context, I think that a lot of people don't understand that fashion is so much more than the clothes we wear. Like you demonstrated by telling me about your dissertation, the story of fashion often encompasses many other stories about sociology, economy and culture. This is an approach that you attempt to share with people through your lectures, right? Could you explain a little what they're about? 
YK: "My lectures were born out of a desire to share my discoveries, most of which were arrived at through research that I had embarked on during my MA studies. I'm a person who likes to render information accessible, and to make research more visual. My lectures were the byproduct of my observation of paintings, exhibitions and fashion and how I connect it all, and they took off very quickly. While I lived in New York, I would travel to Israel for lectures. When I returned, I managed to do a few in person, and then the coronavirus erupted and I started giving my talks on Zoom. I really enjoy it, and I'm actually having fun discovering this tool. The advantage of the online lectures is that many people who live far away can now join."
JB: Is there one lecture in particular that is a big hit, or that you especially like giving?

YK: "Yes, my lecture on painter Gustav Klimt. I think it gives a wider context about the fashion in his paintings. Klimt died of complications of the Spanish Flu. I remember that when I gave talks prior to the outbreak of COVID-19, it was difficult to explain what the Spanish Flu was and why it was so dramatic. Now people can really understand it differently, and it's quite moving how they react to it."
JB: So if we're touching on the subject of the pandemic, I'd like to ask you what effects you think it might have on the fashion industry. Do you believe we'll see a bigger spike in green fashion and in ecologically-aware design?

YK: "The coronavirus has forced most of us to spend more time indoors than we usually do, and I think that a lot of people started organizing their closets and realizing that they have way more clothes than they actually need. So it has helped increase the awareness of the importance of wearing second hand clothes and appreciating vintage designs. Many fashion brands are looking at different ways to create clothes. Instead of creating large amounts of fashion items, and then destroying those that aren't sold or passing them on to third world countries, some fashion houses are trying to create clothes by demand.

But unfortunately, history teaches us that after crises, consumption actually goes up and people buy much more. So hopefully, by the time we get to the post-pandemic days, design and the manufacturing of clothes will be smarter, more efficient and friendlier to the environment." 
JB: Amen to that. Speaking of vintage, I want you to tell me what it was like to curate the exhibition Je t'aime, Ronit Elkabetz, a show in which you dove into the wardrobe of the late Israeli actress, director and screenwriter who was truly such an icon.  
YK: "It all started when I got an email from Yael Shenberger, a designer and the creative director of Israeli fashion brand ATA. She wrote me to say that her friend, Shlomi Elkabetz – Ronit's brother –  was looking for someone to consult with on how to preserve Ronit's collection of clothes after she died two months earlier. I met with him, and our initial meeting turned into a three-hour conversation about the meaning of fashion in Ronit's creation and in their joint work [the two worked together and co-directed the film trilogy Gett, le procès de Viviane Amsalem]. We discussed the meaning of the fashion worn by Ronit onscreen and offscreen and how clothes helped her convey the inner world of the characters she portrayed. During our talk, we raised the option of putting together an exhibition in which we would show her collection of clothes. A few days later, I heard from the team at the Design Museum Holon who wanted me to curate a show on fashion and asked if I had any ideas. So it was just the right opportunity.

The exhibition offered a journey through Ronit's life, between Israel, Paris and Morocco, where her family was originally from. We showcased her clothes, furniture from her apartment in Paris, fashion shoots, parts of her personal archives, cinema footage and more. It was like a treasure waiting to be discovered, and enabled viewers to get to know her deeply. It was a challenging project, because I didn't want it to be an exhibition that simply commemorated her after she died. Our intention was to put together a show that would celebrate the life of this exceptionally talented, feminist woman and artist who lived among us." 
JB: It was indeed a very emotional experience to see this exhibition. I want us to cap off by discussing one last project in which you did the opposite of tracing the outlines of a personal story. In the exhibition New York Fashion Rediscovered, you told the story of an entire era in the city's fashion industry by displaying a treasure trove that was uncovered by chance. How did this work come about?
YK: "This was a truly crazy turn of events. The gallery ZAZ10TS is owned by Tzili Charney and is located in New York's Times Square. Before moving to New York from Israel, Tzili was a costume designer. Her friend Gaetane Bertol, who worked with her on theater productions, had told her that 10 years ago she found a collection of 35 mm slides on the street of fashion photography. Tzili suggested that I come and see these slides, to check if there was any potential for an exhibition that would be based on these images. There were 10,000 slides there that portrayed all the important fashion shows in New York from the 1980s and 1990s, of all the big American designers: Donna Karan, Marc Jacobs, Calvin Klein, Ralph Lauren and more. 
It was unclear to whom this collection belonged, and Bertol kept trying to find out all these years. Eventually she found the person who had disposed of this collection: the granddaughter of the late Japanese fashion journalist Yuriko Tomita, whose son, the photographer Kishimitsu Hada, took all of these pictures. There was a fire in the apartment where the slides were kept, which is why Bertol had found them on the street. 
The concept of the exhibition was a tribute to the building where the gallery is located. This building was the headquarters of the fashion industry in the years when the pictures were taken. I focused on the designers who worked in the building at the time, which helped me select which slides to show out of this truly overwhelming amount that could really compete with some serious national archives. 
The building is one of the city's most beautiful Art Deco buildings, and its lobby is designed in hues of grey marble with gold affixing and black and white patterns. I selected photographs in silver, grey, gold, black and white to create a visual experience in the gallery space. I also focused on the supermodels of that time, which is when women who modelled began to be perceived as personalities rather than walking hangers. So the final result really reflected the designers and featured photographs of that moment when they emerged on the runway after the show to take a bow; on the other hand, it accentuated the stories of models. 
JB: You're making me miss New York! Thank you for the chat, Ya'ara. I'm curious to hear what projects you'll work on next!
A treasure trove of rare pictures helped Keydar tell a story about high fashion at its peak in New York. Credit: Zdravko Cota

Ronit Elkabetz's collection of black dresses. Credit: Shay Ben Efraim